Sign up for Summer Camp!
Registration for Summer Arrows is now closed!
Upcoming Dates:

Girls Regional Finals between Okemos and Dewitt is Friday, Jun 2nd at OHS at 7pm.. 

Boys State Quarterfinals between Okemos and East Grand Rapids is Friday, June 2nd at Lansing Catholic HS at 6pm. 

Middle School Boys and Girls All Star Game is at Chippewa Stadium on Sunday, June 11th. Girls at 4:30 and boys at 6:00pm.
Connect with us:
Get text message updates
---
Did you forget to sign up for text updates? Never miss a game again, weather cancellations, or get any last minute changes before it's too late.
Sounds good right? Just sign up & verify your phone number in two easy steps.
Get started now
t
weets by okemoslax
Boys Summer Camp Registration is OPEN
Boys from Kindergarten - 8th grade can sign up for this instructional camp.This will be an excellent time to improve your skills with some of the best coaches and players from the Okemos program.  The camp will be four days long (July 10 -13) for two hours per day (9am-11am).  All boys will be divided by age and skill, where they will work on developing their fundamental skills and learning more advance skills of lacrosse for each position.  Check the Summer Camp page for more information.


Melaina Grewal and Grace Bielby are named US Lacrosse All Americans!
The accolades have been rolling in for the girls lacrosse team all season.  It was culminated with the announcement on Saturday that both Melaina and Grace will be 2017 All Americans. In addition to being named an All- American, Melaina Grewal was awarded the LSJ player of the year on Wednesday, May 31st at the LSJ Sports awards. This is not the only award the girls team received last week. In addition to the USL recognition, Melaina was recognized as a First Team All Stater along with start goalkeeper, Mallory Keenoy. Grace Bielby (2nd team), Alyssa Karber (honorable mention), Lauren Foltz (honorable mention), Emily Renfrew (honorable mention) and Allison Schloss (honorable mention) were also recognized by the committee of Michigan coaches.
Boys are recognized at team banquet!
Boys top off the 2017 season with a number of league and state awards. Congratulations!!
 

All State:
1st Team: Joey Ciuk
2nd Team: Evan Jamieson, Mario Gonzalez
3rd Team: Joe Frangi, Sebation Carrier, Noah Pipper

Academic All State:
Evan Jamieson, Nick Lim, Tyler Lim, Sebastion Carrier

All Regional:
Evan Jamieson, Mario Gonzalez, Joey Ciuk, Eli Salem, James Gorman, Jacob Wolfe

All League:
Jacob Wolfe, Mario Gonzalez, Evan Jamieson, Joe Frangie, Joey Ciuk, Tommy Nordberg, Sebastian Carrier, James Gorman

Academic All Conference:
Nick Lim, Tyler Lim, Evan Jamieson, Sebastian Carrier, Jack Adair 



The Boys Varsity title run fall short at State quarterfinals!
The Boys Varsity team season ended on Friday after losing to #1  and eventual state champions East Grand Rapids in the quarterfinals. While the boys made a valiant effort to keep the game within reach in the 4th quarter, East Grand Rapids was to much and pulled away in the fourth quarter to win 20-8.  Evan Jamieson scored 4 goals and Mario Gonzalez added 4 goals to keep the Chieftains with arms reach but the 10-2 deficit at halftime proved to be to much to overcome. Congratualtions to the boys on a great season!

Girls Varsity title run ends in the semifinals!

The girls varsity team lost to eventual state champions Cranbrook in the State Semifinals in Novi on Wednesday, June 7th.  After Cranbrook took a 9-3 halftime lead, the ladies fought back but only to lose 14-8 in the end. Congratulations to the ladies for another outstanding season!


Boys and Girls Middle School teams play at the US Lacrosse Michigan Youth Championship!
This past weekend our middle school programs participated in the US Lacrosse Youth Championship in Brighton.  The girls 7/8 team took home the Championship going 5-0-1 in the 14U division!  The boys 7/8 Maroon team lost in the 14U semi-finals to a tough Rockford team and our 5/6 team lost in the 14U finals against the Shamrocks.  Congratulations to all of our teams for representing our community and competing against some of the top teams in the area.

SENIOR DAY - Tuesday May 16th
On Tuesday (5/16) we honored these nine senior players:
Amy Roelle
Moa Zetterstrand
Kyle Billingslea
Joe Frangie
Mario Gonzalez
Evan Jamieson
Dominic Lee
Noah Pipper
Jacob Wolfe
Also check our Senior page for a visual tribute.

CONGRATULATIONS to the Girls Varsity LAX team on capturing their 10th straight CAAC conference Title!
The girls beat their crosstown rivals, Haslett/Williamston, on Friday night (5/12) 17-9 to take the title!  The team was lead by Melania Grewal with 5 goals and 2 assists and Grace Bielby with 4 goals and 2 assists.  Also getting on the scoreboard were Alyssa Karber 3G, Grace Richardson 2G, Emily Renfrew 2G and Lola Gonzalez 1G.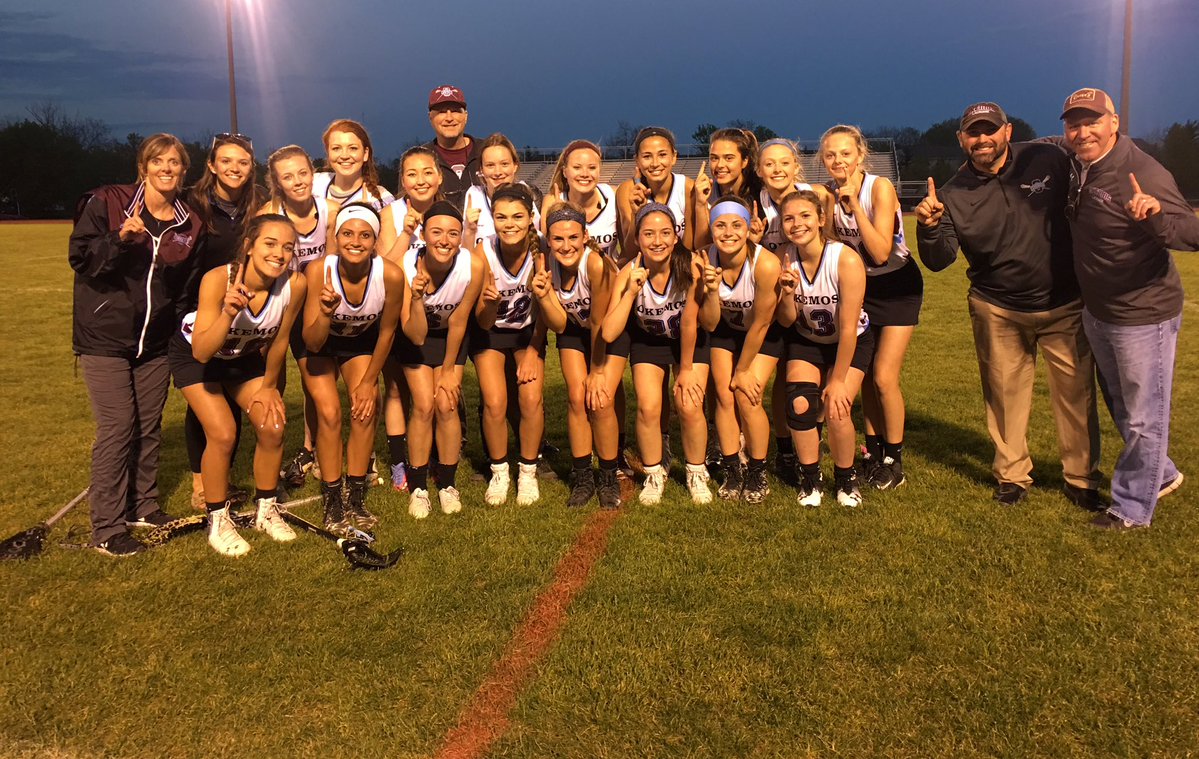 The girls have won every title since 2008 and look to make a strong run in the State playoffs later this month. Go Chiefs!!